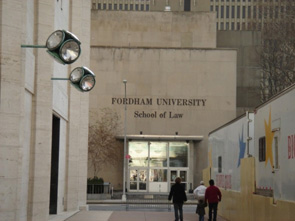 In 2006, Planned Parenthood did 289,750 abortions; in 2007, it did 305,310; in 2009, it did 331,796; and, in 2010, it did 329,445--a small decrease from the previous year.
Link (here) to CNS
An email obtained by the Cardinal Newman Society shows that
Fordham University Law School's Public Interest Resource Center
circulated an email advertising a job opening at the
Center for Reproductive Rights
, a militant abortion-rights organization which has battled against sonogram laws, secured government funding for abortion, and advances its mission of ensuring abortion is
"a fundamental right that all governments are legally obligated to protect, respect and fulfill.
" The email, which seems to have been circulated by
Andrew Chapin, Director of Counseling and Public Interest Scholars
, was forwarded to the Cardinal Newman Society from a disturbed alumnus.
"It's horrible, scandalous, and typical of Fordham Law school,"
said William D. Broderick who graduated from Fordham Law in 1995 and practices law in New York City.
Read the original Cardinal Newman Society report (here)