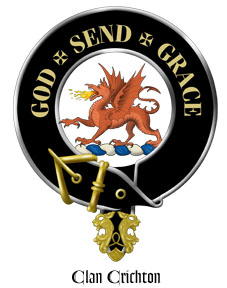 William Crichton,
a
learned member
of the Society of the Jesuits, who, after a life devoted to the propagation of his faith, died at Leyden, in the year 1596. Of the talents, travels, and misfortunes of this author, the following account is preserved by Dempster :
" G
ulielmus Crichtonius
, Societatis Jesu presbyter eruditus et pius, quinquaginta annis religiosé in eadem sociemte transactis, perigrinando, docendo, scribendo, indefesso labore cives suos, hæresi abdieata, Catholicæ Bc. clesias unire annisus est; vir probissimae conversationis, etiam a sectariis, judicatusi Majesmtis regiæ acerrimus propugnator; quippe cum Anglus quidam ei detexisset Elisabetham Angliæ reginam velle se, quacunque ratione, e medio tollere, intercessitl et quantum fieri potuit ab incepto retmxit. Petrus Mathmus, lib. VI. Hist. Gallic. nan-an II. Eoque beneficio Regina dev-incta, cum ille, ex itinere Scotico mari interceptus, in Turrim Londinensem conjiceretur, e vestigia liberum dimisit; ultro confessa, non posse improbum ease, cui curæ esset Regig dignitas et nnimanun salus. silean t ergo perditæ haereticorum voces clamantium, a societate in principes simrios armari; cum hic Jesuita, hostium etiam confessione, longe ab eo fuerit consiiio." Ejus sunt, Excerpta ex SS. Patribus. In primam partem D. Thomas. Lib. I. Theologia Scholastica contra Sectafios. De legitimol Jacobi VI. scotiæ Regis, titulo ad Regni Anglicani successionem. Qua librm Levanli acriptai m pniculum mail, extra omnea Regi; Hhpaniw ditiorm nleguhu: Pro hispani vero in idem regni-m jure, scripta-t Roberta: Penoniur, Jmn'tu Anglia:Casus Conscientia obiit Lugduni Galliarum, MncxvL Multis annis Collegium Lovanii Scotorum rexit .
Link (here) to Life of the Admirable Crichton.