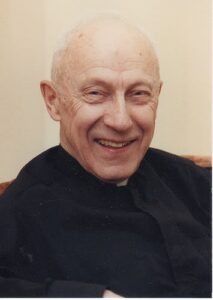 Fr. John Hardon, S.J.
This has been a busy week and I am spending most of my time examining the Acta of the Diocesean Process of the Cause for Canonization for the

Servant of God Fr. Walter Ciszek, S.J.

The effort has been undertaken with the collaboration of

Fr. Marc Lindeijer, S.J.

Fr. Lindeijer, a Dutch Jesuit and brilliant historian, is shepherding the Cause through the process with Congregation for the Causes of Saints.
I had the honor of having a private audience with

Raymond Cardinal Burke

, Prefect of the

Supreme Tribunal of the Apostolic Signatura

. Fr. Lindeijer and I visited him at the offices of the Apostolic Signatura at Palazzo della Cancellaria. We spoke of a number of items, including the Bellarmine Forum and the Causes for Canonization of Frs. Walter Ciszek and John Hardon.