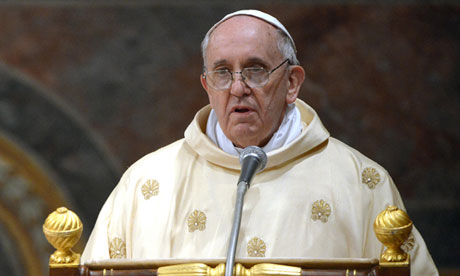 Pope Francis is
"a Jesuit's Jesuit"
who understands the importance of St. Francis of Assisi in the life of St. Ignatius of Loyola, founder of the Society of Jesus, said the Jesuits' secretary for the promotion of the faith.
U.S. Jesuit Father Gerald Blaszczak told Catholic News Service March 15 that while most Jesuits were shocked that a Jesuit was elected pope, "any Jesuit worth his salt" would not be surprised that the pope took the name of St. Francis of Assisi.
Pope Francis, the former Cardinal Jorge Mario Bergoglio of Buenos Aires, Argentina, entered the Jesuit novitiate in 1958 and was ordained to the priesthood in 1969. He had been novice master and, from 1973 to 1979, was the Jesuit provincial for Argentina.
Father Blaszczak said Pope Francis' training and priesthood as a Jesuit "tell you that he's been steeped in Ignatian spirituality," has had "a top-notch secular education" and that "his formation has always put him in touch with real people in real-life situations," which he then has reflected upon in an effort to identify the ways God was present.
"That he chose the name Francis signals to us where he's from, what he's about and what he believes the reform of the church is going to require: It's not going to require moral muscle, it's not going to require just philosophical analysis; it's going to require an engagement with the person of Christ," particularly through the Scriptures, he said. "But it's going to be the Christ poor and humble."
While some people thought maybe Pope Francis took his name thinking also of the great Jesuit St. Francis Xavier, Father Blaszczak said Jesuits know just how important the life, example and spirituality of St. Francis of Assisi was in the conversion of their founder, St. Ignatius, and in the development of what has come to be known as Ignatian spirituality. St. Ignatius, who lived 1491-1556, was from a Spanish noble family. After being wounded in battle, he began reviewing his life and thinking about his future. Father Blaszczak said he saw his choices as life and a career in the royal court or a life spent imitating St. Francis of Assisi.
Link (here) to CNS