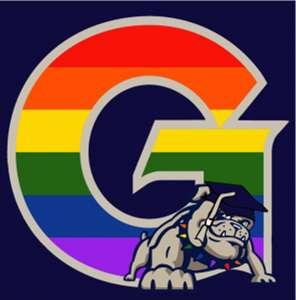 What strikes me about the juxtaposition of the two posters is that each one includes
"The Great Seal of Georgetown University."
It's been said (and there is
some data
, albeit disputed, to back it up) that Catholic students who attend an inauthentic Catholic college—that is, one that does not uphold Catholic faith and social teaching across the board— are more likely to lose their faith than those who attend a secular college. I can see how that claim might be true.
Imagine a Georgetown University student who was raised by Catholic parents to believe, as the Catechism says, that "homosexual acts are intrinsically disordered" and
"contrary to the natural law"
; they
"close the sexual act to the gift of life"
and
"do not proceed from a genuine affective and sexual complementarity"
; and
"[under] no circumstances can they be approved"
(
CCC 2357
). Then imagine that same student seeing his
"Catholic university"
place its Great Seal on
"Coming Out Week"
and an entire month of
"OUTober"
events such this:
Coming Out in Red Square
Five years ago, the Out for Change campaign worked hard to make Georgetown a more inclusive place. Today, coming out on campus still presents unique challenges. Show your pride this year by Coming Out through our closet door as a proud LGBTQ or Ally, and participating in the midday 'Kiss-In'. Be sure to wear your 'I Am' t-shirt throughout the day to promote visibility and awareness about LGBTQ life on campus!
Time: 12:15pm
Location: Red Square
Audience: All
Do you think that such a student, away from home and seeing his "Catholic" school actively promote the homosexual lifestyle, would still believe that his parents had given him the truth about what the Church teaches on same-sex attraction? Or would he think that the Church had "moved with the times"?
Link (here) to read the full blog post by Dawn Eden and see her video link.