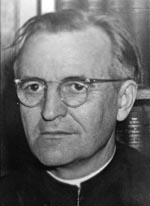 A new blog called
Brother André Marie's Theology Blog
, Brother Andre explores the idea's of Fr. Leonard Feeney, S.J. the former editor of America Magazine.
Father Leonard was a great proponent of the dictum, lex orandi est lex credendi (the law of praying is the law of believing); however, he always insisted on doctrine first. Without a solid doctrinal foundation, liturgy soon deteriorates into sheer aesthetics. Back in 1949, when the Archbishop of Boston obscured the single, clear path to salvation, a fracturing of the Church's prayer life was sure to follow. And it did! Everything still looked perfect. 20,000 members of the Holy Name Society marched through Boston's main thoroughfare; the Mass of Trent was the only Mass being offered; the parish churches were full and new ones being built all the time, but the Faith which held all this together was already slipping away. If the Faith were restored, we would have the right liturgy. Read more
(here)
Brother Andre Marie's bio
(here)
A native of New Orleans, Louisiana, Brother Andre Marie graduated from that city's Holy Cross School in 1988. He went on to study at Louisiana State University's (LSU) main campus in Baton Rouge, on full scholarship as a music major. After three years at LSU, he transferred to Holy Apostles College and Seminary, in Cromwell, Connecticut, where he took a Bachelor of Arts degree in Spring of 1993 (major in Humanities with a minor in Philosophy). He entered as a postulant for the Slaves of the Immaculate Heart of Mary in May of 1993, and went on to the novitiate on Christmas of that year. He made profession of vows on Epiphany of 1996. Since 1993, he was mentored in philosophy and theology by Brother Francis Maluf, M.I.C.M., Ph.D., a published philosopher of note. His apostolic work has included various facets of the publishing apostolate of the congregation. For ten years, he was also part of the community's small "mission band" of brothers who traveled to different cities distributing literature to interested persons in an effort to spread the Catholic Faith and bring wayward Catholics back to a sacramental life. He oversaw that apostolate for four years. He has edited three of the Order's books, published dozens of articles and presented numerous lectures in apologetics, the history of doctrine, the Church's ecumenical councils, ecclesiology, and devotional topics.